WHY SHOULD I TRUST YOU?
Instant Trade! 100% safe!
At the moment we have thousands of positive feedbacks on all social networks (VKontakte, Facebook, Twitter, Steam, Instagram).Visit our pages and see for yourself!
More than a hundred videos. Almost all of the most popular Youtube video-bloggers have made their reviews about our service.
Trustpilot - one of the world's largest online review communities supports us!
All our operations are transparent. You can see the feed on our website.
Our support is available 24/7. We will be glad to answer any of your questions.
Why are some skins not showing up in my inventory on Skins.Cash?
The filter does not display skins that our service will not trade. It is made specifically for your convenience.
Our filter works very simply: our service does not trade Dota 2 items that are not popular among the Dota 2 community or those with unstable pricing policy (for example, if the price was constantly dropping recently).
But don't be upset if our filter didn't display anything today. Come back from time to time to see if the filter configuration was changed. Perhaps some of the items will become available for sale.
How do I complete the transaction?
There are some very important restrictions from Steam and Valve company, you have to carefully read and follow to ensure your safety and safety of your money.
The user is obliged to comply with the following rules for a successful transaction:
you must have the Steam Mobile application to confirm the game content transfer by the STEAM protection system, installed no less than 7 days before making the transaction;
you must have STEAM Guard protection system enabled no less than 15 days before making the transaction with the Company on the same device the transaction will be made from;
you must not change the password in the STEAM system within at least 5 days before making the transaction. If your STEAM account has been inactive for past 2 months, the necessary condition is that you must not change the STEAM system password within 30 days before making the transaction;
you must not change the contact email address in the STEAM system for at least 5 days prior to the transaction;
for at least 7 days prior to the transaction, you must not change the device with the STEAM application, which will be used to confirm the game content transfer;
the age of the user must be at least 18 years old.
In case of a failure to meet any of the foregoing user requirements, SKINS.CASH reserves the right to cancel the transaction
I've found a bug!
You've found a bug or error on skins.cash ? A mistake or a typo in the text? Then immediately contact our support team and let us know. We will be very grateful for your help!
Contacts: [email protected] or Facebook
How to confirm the exchange offer from Skins.cash on STEAM?
Once you confirm the exchange and select the payment system on our website, you will receive an exchange offer from our robot within a few seconds. The offer will also contain a security code inside.
In the new opened window, wait until all the items are loaded and click the 'Ready to trade' option, afterwards, you may hit the 'Accept Trade' button.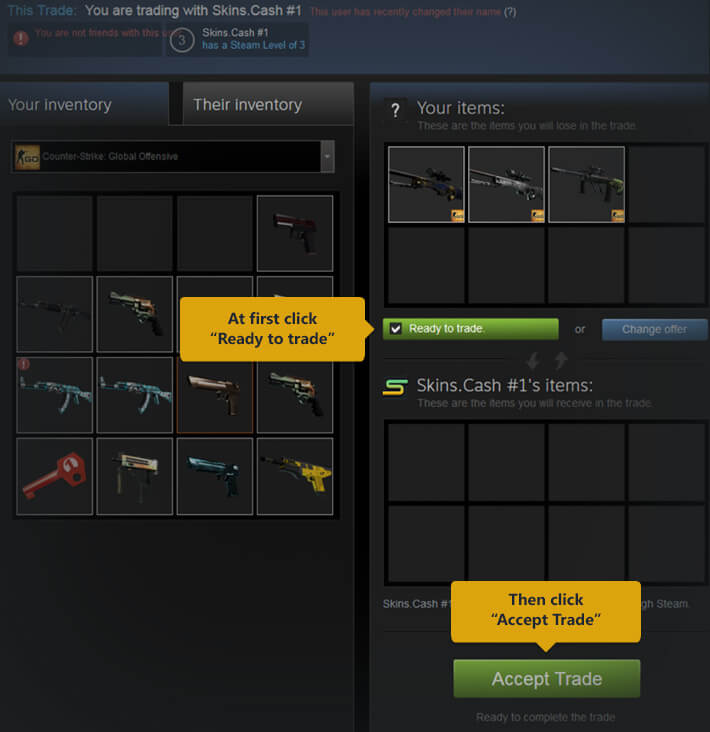 You will receive the following message.

Now you need to confirm the trade in the Steam Mobile application.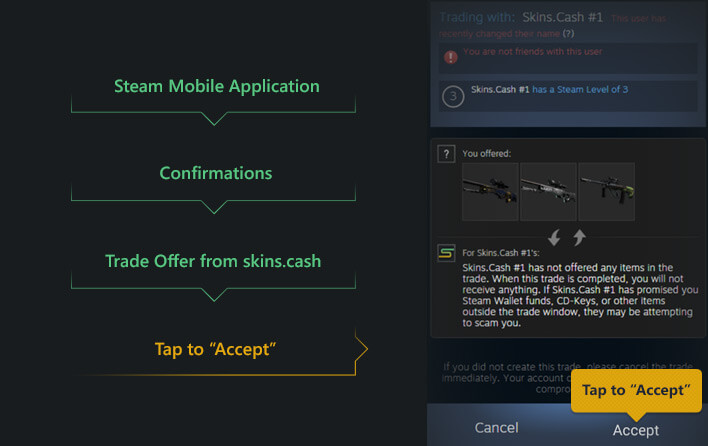 WHAT IS THE SERVICE PRICE FORMATION FOR SKINS?
The service price formation for skins is generated automatically. The calculation of data are taken of other similar platforms including Steam.
I didn't receive money on my account
Do not worry. We guarantee 100% payout! What should you do if can't see the funds on your account?
If you chose webmoney.Try updating information on your account (press F5) or log out and log to your webmoney account again.
If you chose QIWI or PayPal.Sometimes, due to problems of payment systems, funds may comes with a delay. Sometimes QIWI and PayPal simply does not accept our payment. You should immediately contact our 24/7 online chat operator on skins.cash and tell us your transaction number (check your email) and explain the situation. We will update the payment and you will receive your money.
If you chose Master Card.There might be occasional delays in money transfer up to 5 days due to the inner processes of your credit card issuer. If you didn't receive the payment in an hour after the deal was completed, please contact your credit card issuer support service for possible explanations. Sorry, but we can not speed up bank transfers.
How much will my skin cost on your website?
We are buying only those skins which cost more than 0.03EUR and are valuable for the gaming community. Skin sorting is being made by a dynamic algorithm, which means that some skins can whether be able or unable for sale, depending on a time of a day, market situation and other reasons. Uptime of price updating and selling availability may take from 1 up to 4 hours. If we are unable to buy any of your skins at a particular moment, we recommend to visit our website later, the filter settings may change and your skins become available for sale.
Let us remind you that our service do not charge any fees for trading. You always receive an amount of money which is specified by our website before confirming a trade.
I did everything correctly, but didn't receive the transaction confirmation on Steam
This may happen due to the following reasons:
Steam is experiencing some technical problems, thus, the exchanges in the system may be temporarily unavailable.
There may be temporary problems with our bot.
If you are confident the Steam system works correctly, please contact our online support, they'll promptly respond and help to solve your problem asap.
Account requirements
The account must not have a lifelong ban to trade or temporary exchange restrictions (7 days restriction from trading, VAC lock, password change, etc.) An official detailed list is available on the STEAM website here
The account must be linked to your phone via Steam Mobile Application with active Mobile Authenticator. Click here to know more about Steam Mobile.
Your account on the STEAM website should have a correct trade URL added and saved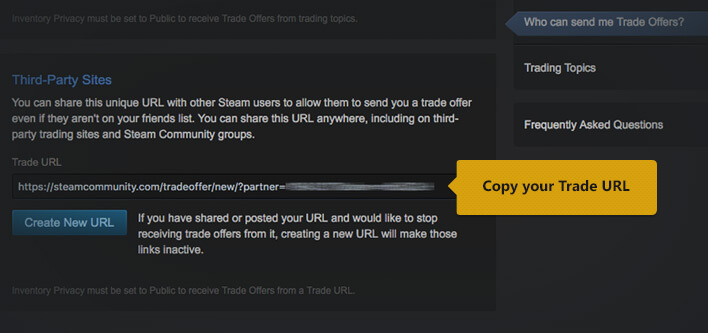 The inventory and profile privacy settings must be set to "Public"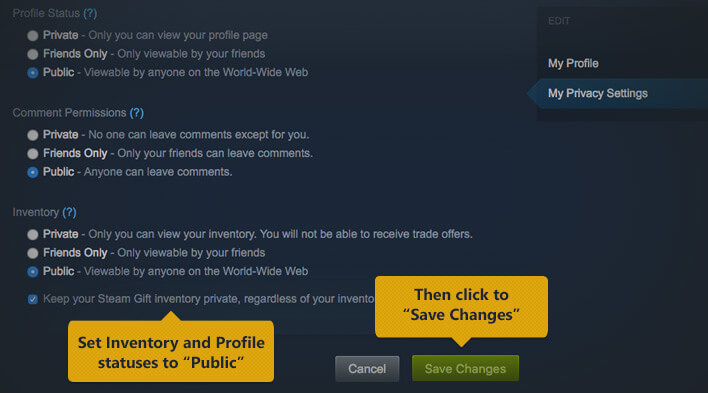 How to set up and use Steam Mobile Application?
As we know the account must be linked to your phone via Steam Mobile Application with active Mobile Authenticator.
At first you must install the application. It depends on your mobile operating system, you can get it by the following links:


Then you need to sign in and confirm the device.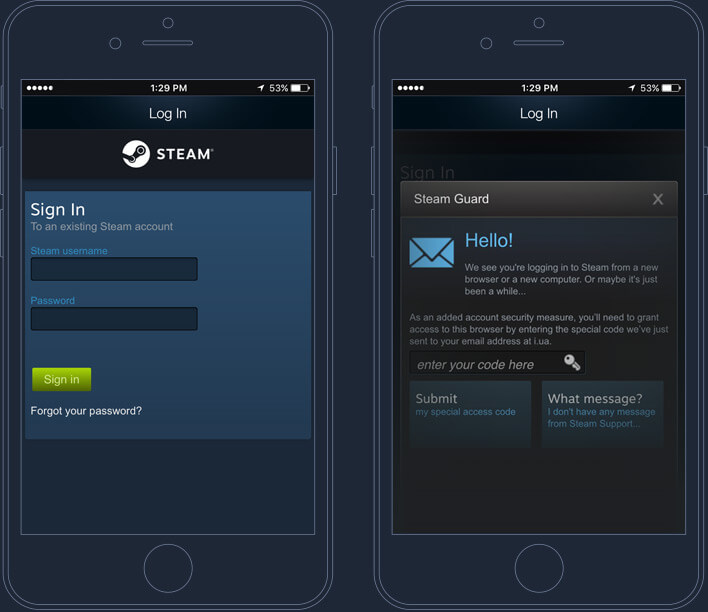 After that you need to activate Steam Authenticator on Steam Guard menu.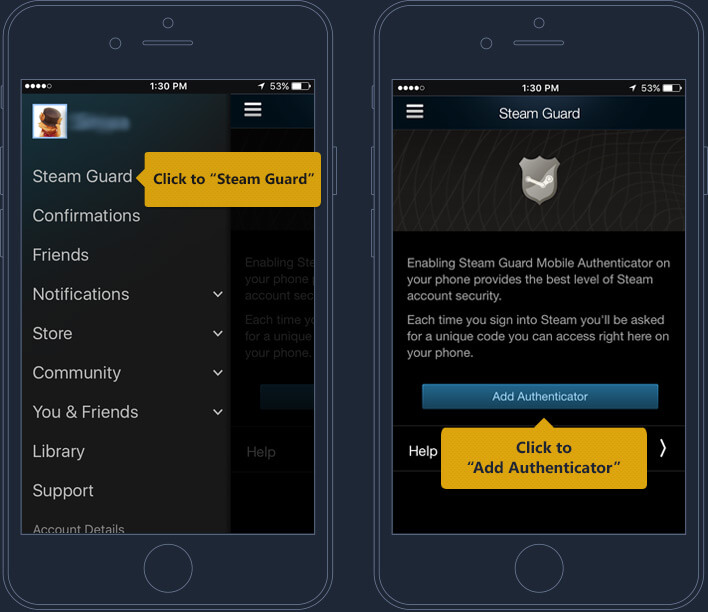 Then comlete Authenticator activation by SMS verification.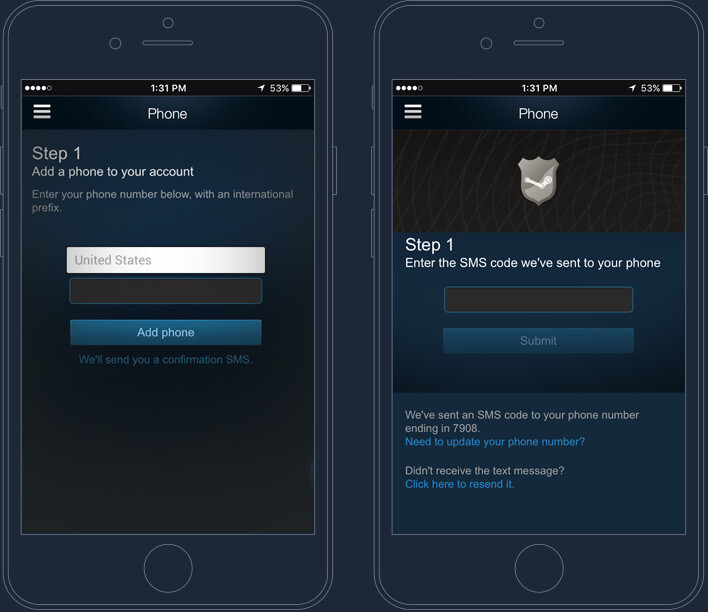 Congratulations! You have 7 days to collect the skins. Finally, you can sell them all on skins.cash :)
Wholesale
You can sell large amounts of skins? We can offer you excellent conditions and bonuses. Please contact us to discuss conditions for wholesales at [email protected]